Wouldn't you love to be truly free? 
Freedom is deeply desired by every person on earth. We want to be socially free. We want to be emotionally free, financially free, and spiritually free. We also want the freedom to choose how we spend our time and the freedom to use our brain to create.
Being free means we can create a life that is on our own terms, it means we feel peaceful and light, it means we are authentically ourselves and moving towards an abundant life. It means we can create a legacy of love and prosperity for our children, and that we can fully actualize our dreams and mission.
Best of all – freedom means we can fully love and be loved.
Every conflict we have in life is because our freedoms are being threatened and the outcomes we desire are being or have been sabotaged.
We all want to rise up and triumph over our circumstances and to create a life that is beautiful. It's our right as a human to do so.
Recently, I realized how key freedom is to me and how it has driven the narrative of my life since I was very small. The work it has taken me to claim my freedom has been the hardest thing I've ever done and the best thing I have ever done.
What compromised my freedom?
Externally, I experienced maltreatment from others (even from those who were meant to care for me) and heavy pressure to conform- often in ways that compromised my own values.
Internally, I lived in a state of constant fear and anxiety and I accepted and believed what was said about me so I treated myself harshly for being such a 'loser'.
I became a master of self-sabotage, was full of anger, and then shut the door on letting myself feel joy or hope.
What a cocktail. Plus, if you add in a traumatic event or two…it can seem almost impossible to be free and cynicism knocked loudly on my door all the time.
Right now, at this time in history- we feel like our freedom is being threatened (with issues like PANDEMICS) and this creates even more fear. When people are scared they can take actions that worsen the situation.
How often are these themes active in your life, too? Do you ever take action or form patterns of behaviour that negatively impact your health, well-being, and abilities to be resilient?
We start to accept that we are powerless and start thinking,'that's just how it is and how it's going to be'. Or we go into protection mode- and harden our hearts. Something that never turns out well (first hand experience here…)
Let's say NO to having (or letting) our freedom be taken away… 
The incredible news is we can reclaim our freedom and build our freedom skills so we cannot lose our freedom ever again. When we choose our thoughts, choose how we will behave, and choose how we will respond to our feelings and challenges- there's no stopping us!
It's the POWER PROCESS and we can use it daily:
Step #1- Acknowledgment is FREEDOM
Our job is to get really clear about where we have felt judged or forced into conformity, where we have let others decide what matters to us, or where we have been mistreated and acknowledge the role these components have played in our lives.
Step #2- Acknowledge our CONTRIBUTIONS
We need to check in on our contribution to the matter. Where have we allowed our fears, our negative thoughts to dictate our actions or how we've treated ourselves? Where have we broken with our own integrity or repressed our dreams and goals?
Step #3- Acknowledge our human story- Be COMPASSIONATE and KIND
Finally (and this is the most IMPORTANT step), we must bestow ourselves with self-compassion and kindness and then do our best to let go of the hurts that others have inflicted on us.
In short, we must stop returning to the past where our freedoms have been compromised and we must live in the present where we have the power to make choices in favour of freedom. This is the key to the breakthrough.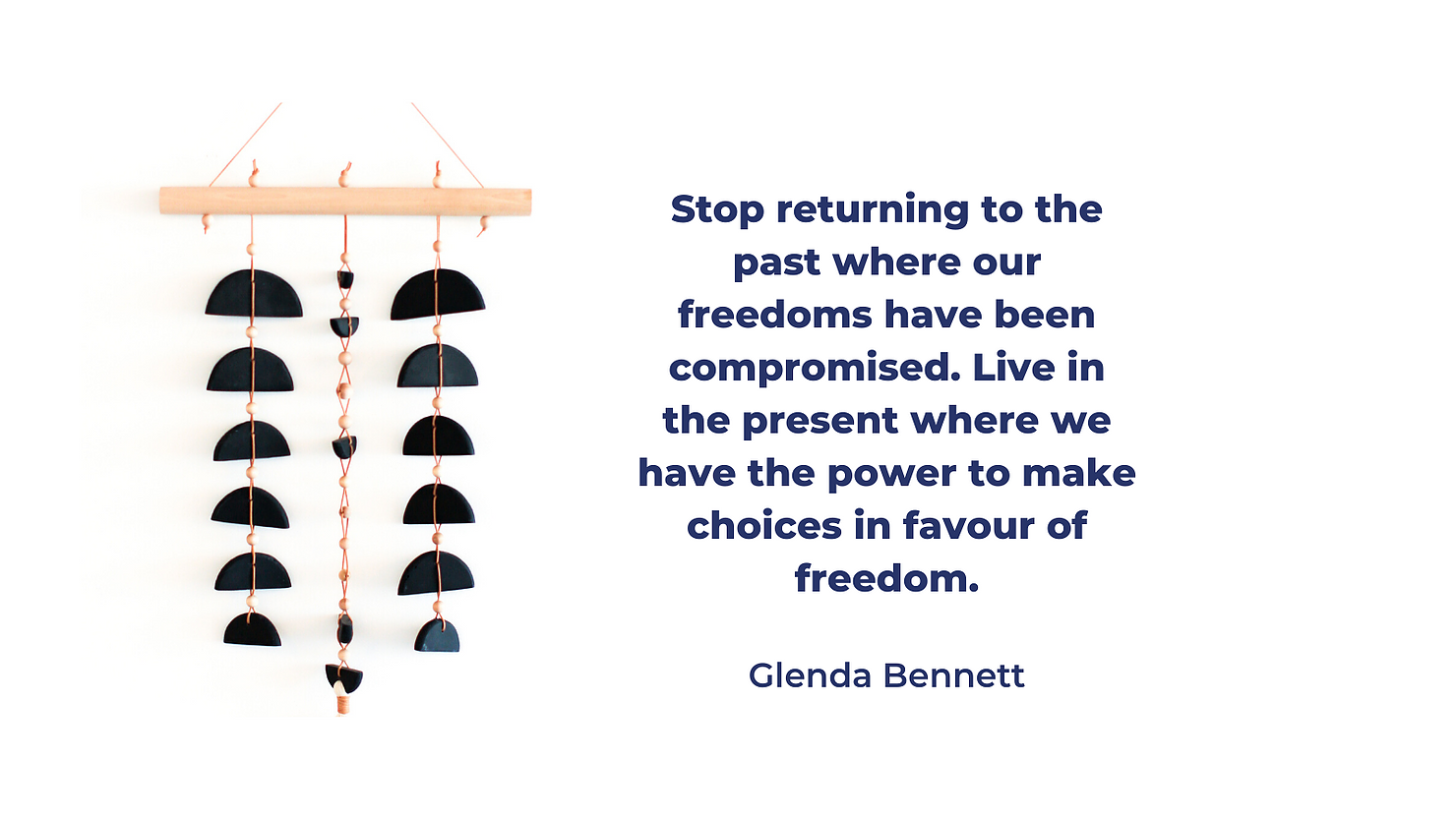 Will you continue to let negative things define your future? Will you let your pain of what has been done to you take away your freedom? Or will you define what a free and incredible life looks like and then go after it with gusto?
Two quotes to end with and ponder…
'We must be conscious and responsible for our beliefs and behaviours if we are ever to be free' Brendon Burchard
'Show your contempt for the problem and your concern for the person'  Jim Rohn
With Love,
Glenda
Ps. I just got this tool for editing last night and I think it's beautiful for helping us. Whenever you have a thought or are taking an action- do not judge it– instead ask yourself- 'Is this essential/required/imperative and does it move me forward to where I want to go?'. If the answer is no- then let it go. If the answer is yes, you are on the path to the life you want. Go there!